August 7, 2023
Facilities Services: Career Advancement
Facilities Services is a Continuum business unit that provides engineering, operations, maintenance and day porter services for our commercial and industrial properties. Over 100 knowledgeable and highly skilled technical team members keep our clients' commercial facilities running smoothly.
A new Engineering and Facilities Manager has been added that should have a positive impact on the department and our clients. Following an extensive search, the role is now in the capable hands of Jeffrey Carter, who brings to Continuum Services a wealth of experience in commercial and industrial environments and an impressive technical background. According to Scott Milligan, Senior Vice President of Facilities Services, "Jeff's appointment to the management roster, that includes Tom Bartkowiak and Patrick O'Neill, afforded us the opportunity to rebalance and reallocate our assigned portfolio and position the department for growth." Not only will the team be looking to pick up new assignments, the added leadership ensures we are appropriately servicing our existing clients.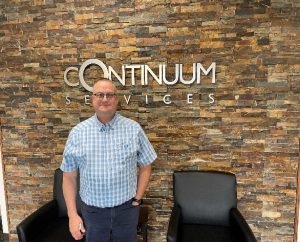 –Jeff Carter, Engineering and Facilities Manager
At Continuum, we make promotion from within a priority, investing time and resources in our employees. The first six months of 2023 saw the internal advancement of 10 team members in Facilities Services, including an assistant chief engineer, four lead engineers, a maintenance technician, two lead senior day porters, a senior building engineer and a building engineer.
Milligan said, "Aligning with our enterprise-wide Career Development Matrix, we put a high regard into growing our employees' careers and giving them opportunities to advance." Team members become qualified leaders naturally with the technical skills they learn on the job, specialized training, the relationships they build with customers and the familiarity gained with the company.
Start Your Career With Continuum
If you begin your career in Facilities Services and want to move up or even to another department within the company, you are provided with the training and support within the company. At Continuum, you can start your career with us, continuously move up the ladder and retire with us!
"Promotion from within and the development of careers has been a large focus at Continuum."
–Scott Milligan, Sr. VP Facilities Services
At Continuum Services, we're committed to being the first and only choice for facility services and building maintenance, and our employees are the key to achieving that goal. We are a seven-time winner of Metropolitan Detroit's 101 Best and Brightest Companies to Work For. We offer an exciting place to work, competitive compensation and benefits, and a robust and customizable training system to ensure our employees have all the skills they need to succeed.