July 15, 2021
What is Epoxy Lining and How Does it Work?
Polyvinyl chloride, commonly referred to as PVC piping, wasn't introduced to the U.S. until 1952. That means many older buildings and homes have cast iron piping and drains and clay drain tiles installed. Over time, the material starts to corrode and you wind up with leaks.
Those leaks turn into damaged walls, and suddenly you're faced with the potentially costly situation of having to replace all of the plumbing in your office or building.
Instead of digging up floors and breaking into walls, consider the Epoxy Pipe Relining method, also know as Cured In-Place Pipe (CIPP).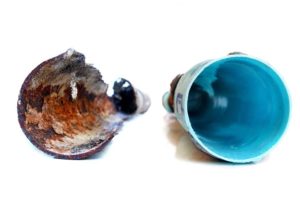 What is Epoxy Pipe Lining?
Epoxy Pipe Relining is a cost effective alternative to replacing old piping. The process essentially creates a new pipe within the existing damaged pipe. The inside of the pipe it coated with an epoxy resin which seals any holes caused by corrosion.
While less expensive that replacing than replacing a plumbing system, Epoxy relining also has a 50-year warranty.
What is the process of Epoxy Lining?
Evaluation
First, the pipes will be checked to see the extent of the damage. This can be done through the use of cameras and/or electron leak location equipment.
Preparation
Before the epoxy process begins, the pipes must be cleaned to remove any blockage. The pipes will then be checked a second time, where the length of the lining will be determined.
Implementation
Once the prep work is complete, the epoxy liner is placed. The pipe is soaked in epoxy resin which is allowed to cure.  The curing process is the longest step at approximately eight (8) hours.
Epoxy Pipe Lining can be used for the following:
Leaks and breaks
Blockages
Cracked pipes
Tree roots
Water damage
Mold growth
Maintain water flow
Benefits of Epoxy Pipe Lining:
No digging or breaking of walls
No threat of future pipe corrosion
Confirms to U.S. building code regulations
Spot repairs are an option
Material is environmentally safe and produces less waste
Material is warrantied for 50 years
Repairs can be completed quickly
Continuum Services offers Epoxy Pipe Lining, as well as these other plumbing services:
24/7 emergency services
Remodeling
Back flow testing & replacement
Excavation
Color video scoping of sewers
Air piping
Process piping
Sewage ejector pits & pumps
Call us today for more information on this process, or an estimate on your plumbing needs!