August 12, 2015
Cooling Towers: Winterization Procedures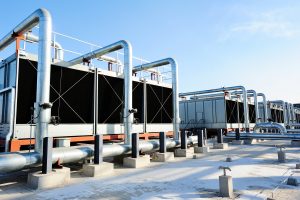 If your property's cooling towers are run seasonally, the time to shut them down is soon approaching.  Even when a cooling system is well taken care of during the operating season, avoidable damage may occur should proper winterization procedures be omitted.
Below are a few guidelines to follow that will ensure your system remains protected throughout the winter and starts up again problem-free when warmer weather rolls around.
Shutdown/Layup Procedures
Sweep off the distribution deck while the system is operating. Drain down the tower and wash out the tower fill and sump. Remove and clean all strainers. Reinstall the strainers.
Isolate the tower controllers. Shut off the controller. DO NOT unplug the controller power source.
Refill the tower system. Vent all chillers to ensure that they are completely filled with water. Close the vents.
Add layup water treatment to the tower and re-circulate the system for a minimum of 8 hours using all pumps.
Completely drain the system from the lowest point.
Clean and flush the chemical feed pumps. Place the suction line (foot valve) of each pump in water and operate the pump to completely flush it of treatment products. Leave the foot valve out of the chemical tank for the off-season.
Open the chiller condenser end bells and brush the tubes. This should be done right away to avoid stagnant water sitting in the chiller.
Store the chiller with the end bells removed when not in use.
By following these shutdown instructions, you will be guaranteed a worry-free winter and a trouble-free start-up in spring. When it comes to cooling tower services, the best option is to hire a cooling tower tech specialist. To schedule the shut-down of your cooling towers give Continuum Services a call at 248.286.5200 or info@continuumservices.com.