January 29, 2015
Brighten Up Your Facility This Spring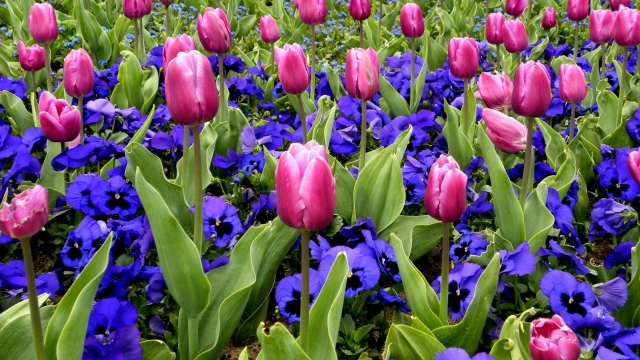 Time to rid yourself of those winter blues and get ready for spring. There's no better way to do so then preparing your facility's landscape with spring flowers. With so many options, it can be hard to determine the best flower. You want something that will bloom in the spring and survive the fluctuating temperatures the Midwest experiences. The top flowers Continuum plants for their clients include:
Pansies- The garden pansy flower is two to three inches in diameter and may grow to nine inches in height. Pansies are hardy annuals and offer a colorful range of flowers. It is recommended to plant the seeds in late winter for early spring and summer flowering. Although pansies are not fussy plants, they will grow best in a loose, rich soil. Maintenance is minimal; we recommend a monthly fertilizer be put down. Slugs can be an issue for pansies. They can be a nuisance during wet seasons, especially if growing in partial shade.
False Tulips– Tulips are a perennial beauty that grows from bulbs. The false tulip, also called forced tulips, is planted outside already bloomed. They come in a range of colors, including the common red, yellow and burgundy. Once the tulip has bloomed they are considered low maintenance. They require a watering when the soil is dry and sun. Even though tulips are relatively easy to care for, they can experience pests and diseases. Common pests are Japanese Beetles, slugs and worms.
Early spring flowers are the surest sign that warmer weather is coming. Contact Continuum Services at 248.286.5200 to receive a landscaping installation quote.